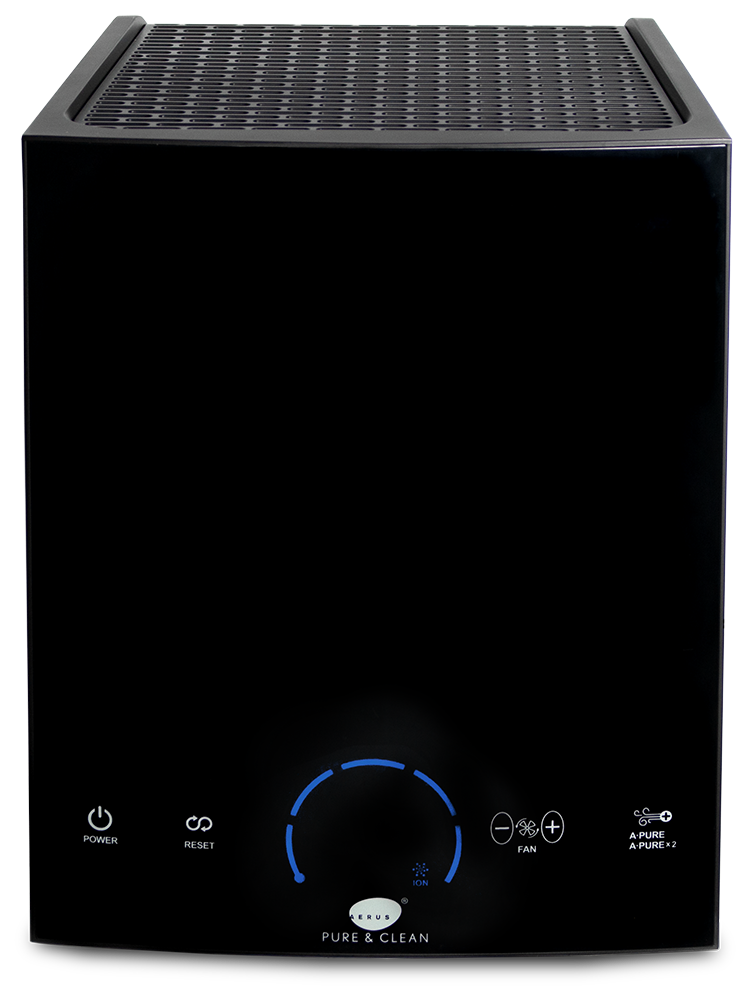 Ozone & Non-Ozone Options Available
The Aerus Pure & Clean is a revolutionary air purifier that substantially reduces odors, visible smoke from the air, and microbial populations on surfaces, commonly found in the average home or office environment. The Aerus Pure & Clean features a New & Improved PATENTED ActivePure® Cell design that delivers ActivePure® faster to the air and surfaces around you.
Contact us for our best pricing, pre-order questions and to place orders!
Description
Brochures & Documentation
Description
Benefits
New & improved PATENTED ActivePure® Cell destroys over 99% of all surface and airborne contaminants faster
Uses an exclusive combination of technologies, including Positive and Negative Multipoint and RF Ion Generation, HEPA and Activated Carbon Filters and our proprietary ActivePure® Technology
Purifies surfaces and air, removes VOCs, smoke and odors
Reduces airborne contaminants and allergens that can trigger asthma and allergy symptoms
Freshens air and removes odors without the use of ozone
Portable, no installation required
Uses only 43 Watts of electricity… less than a standard light bulb!
How It Works
Features a high intensity UVC light that makes use of the same oxidation and ionizing properties of light as naturally occurring sunlight
Our proprietary ActivePure® Technology uses light waves and a catalytic process to produce super oxide ions and hydro peroxides that destroy contaminants on surfaces and in the air
Certified Space Technology continuously protects and purifies the environment around you
ActivePure® has been tested in independent labs and proven effective on bacteria, viruses, mold and fungi on surfaces and in the air.
Unique Features
Positive and Negative Multipoint and RF Ion Generation
HEPA and Activated Carbon Filters
Five Speed Fan
LED Display
Maintenance Reminders
Replaceable ActivePure® Cells
Removable Rear Grill
Universal Power Supply with cords
Brochures & Documentation
Keeping the Family Pet!
Thanks to this air scrubber we were able to keep our family pet even after we found out my son is allergic to dogs. He has had no symptoms since we installed it.
Safe For Essential Workers
My husband worked in the Covid ward at the hospital and he was staying in a hotel because of fears he didn't want to infect us but this air scrubber kills viruses 24hrs a day and now my husband is home with our family. Thanks A Nu Look.
No Allergies in Our New Home
My wife and I developed allergy issues after we moved into our new house. We purchased a portable air scrubber and what a difference it has made. We can now enjoy our new home.
Keeping the Smoke Out
Last year the smoke from all the fires was giving me all kinds of breathing problems and I couldn't escape the odor even in my house until I installed an in-line air scrubber. Now there are no odors and my air is so fresh.
Mobile Unit for Lyft/Uber Driver
I use my personal car as a Lyft and Uber driver and this Mobil air scrubber is awesome. I plug into my cigarette lighter so my car is being cleaned and sanitized 24/7. No odors or viruses to be concerned about. Everyone should have one of these.
Chemical Free Office
When Covid hit we had wipe down the office with bleach/Lysol every morning so the office smelled like bleach most of the day. We installed a portable air scrubber in the office (about 2500 ft ) and within 15min after bleaching in the morning the smell of bleach was gone. All of the smells in office are gone and we no longer wipe down with bleach or Lysol.