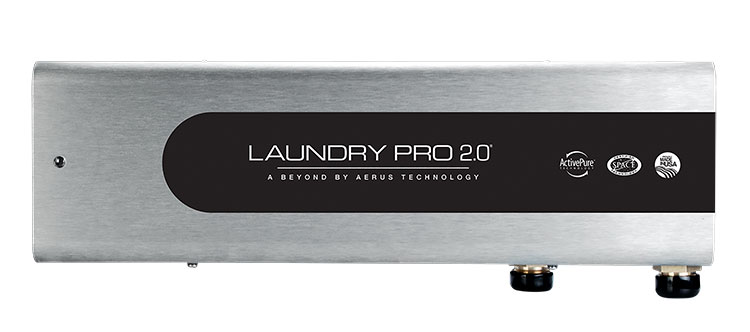 The Laundry Pro 2.0 uses ActivePure® Technology to remove dirt and stains from clothing without the use of detergent or hot water. This revolutionary technology combines the power of water with hydrogen and oxygen-based oxidizers.
Contact us for our best pricing, pre-order questions and to place orders!
Description
Brochures & Documentation
Description
Highlights
No Need For Detergent*
Makes Clothes Softer
Clean Without Bleach
No Worries and No Maintenance
Better For Sensitive Skin
Monitors operation with blue LED indicator
Made in USA
Ease of Use
Easy to Install
Earth-Friendly
Whiter Whites, Brighter Colors
Certified Space Technology
The Technology
Laundry Pro 2.0 incorporates the power of our revolutionary, exclusive ActivePure® Technology with the cleaning action of water with hydrogen and oxygen-based oxidizers to lift dirt and grime away from the fibers of fabric and prevent the growth of odor-causing bacteria. Laundry Pro 2.0 is an amazingly effective cold water laundry system for residential use.
Laundry Pro 2.0 ensures that you aren't absorbing anything from the fabrics you touch, which helps you to avoid the allergic reactions that can be caused by detergents. Based on processes used for over a decade in hospitals, hotels, and laundromats, Laundry Pro 2.0 infuses cold water hydrogen and oxygen-based oxidizers bubble and lift dirt and grime from cloth fibers, leaving clothes brighter and cleaner.
Brochures & Documentation
Keeping the Family Pet!
Thanks to this air scrubber we were able to keep our family pet even after we found out my son is allergic to dogs. He has had no symptoms since we installed it.
Safe For Essential Workers
My husband worked in the Covid ward at the hospital and he was staying in a hotel because of fears he didn't want to infect us but this air scrubber kills viruses 24hrs a day and now my husband is home with our family. Thanks A Nu Look.
No Allergies in Our New Home
My wife and I developed allergy issues after we moved into our new house. We purchased a portable air scrubber and what a difference it has made. We can now enjoy our new home.
Keeping the Smoke Out
Last year the smoke from all the fires was giving me all kinds of breathing problems and I couldn't escape the odor even in my house until I installed an in-line air scrubber. Now there are no odors and my air is so fresh.
Mobile Unit for Lyft/Uber Driver
I use my personal car as a Lyft and Uber driver and this Mobil air scrubber is awesome. I plug into my cigarette lighter so my car is being cleaned and sanitized 24/7. No odors or viruses to be concerned about. Everyone should have one of these.
Chemical Free Office
When Covid hit we had wipe down the office with bleach/Lysol every morning so the office smelled like bleach most of the day. We installed a portable air scrubber in the office (about 2500 ft ) and within 15min after bleaching in the morning the smell of bleach was gone. All of the smells in office are gone and we no longer wipe down with bleach or Lysol.